Thanks to our staff for their participation and hard work in the Lifestyle Expo held in Kangar, Malaysia at end of January 2016. I am truly delighted to see every staff working together giving their best to promote our products to the 1000+ visitors.
Our booth reminded me of the days in the U.S with many exhibitions I did and I was proud to see that my staff did the same set-up in Malaysia too. The Paul Penders booth was the best and most professional looking among all.
Two of our staff had the opportunity to present our products to the Queen of Perlis. I personally congratulate them for taking the bold step from their comfort zone and courage to do their best in front of the Queen and the public. Yes… Kudos to Sakinah and Umaiyah!

Sakinah sprays Paul Penders Natural Herbal Citrus Eau de Perfume on the hand of the Queen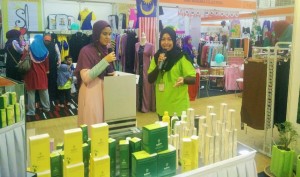 Umaiyah explains the goodness of our herbal cosmetics to the audience

We served fresh Mujonso tea during the entire 3 days of this busy expo, and for visitors who loved the tea so much and wished to experience more of the unique health benefits for themselves, they got a free Mujonso plant!
While happy with the sales made during this exhibition, we are very excited that our brand of natural botanical cosmetics, with all our products containing the unique blend of organic 22 LevensESSENTIE ™ Herbal Extract, is now made known to more people in Malaysia, including the Royal Family!